Military Bass Bums&reg and Kentucky Lake Largemouth
by CW2 William Bjork
(Balad, Iraq)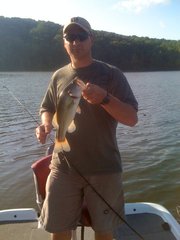 CW2 William Bjork
Military Bass Bums&reg in Iraq
You see above CW2 William Bjork, CISOTF-AP J6 Technician. OK, William notified us that he is the guy in the green shirt and tan hat. He and some of his bass fishing buddies now find themselves serving our nation in Iraq.
They contacted us from Iraq saying that while there are no largemouth or smallmouth bass in Iraq there are some "strange" fish in the lakes and rivers they would like to give a shot at. Here at Bass Fishing and Catching we're gathering up some used fishing tackle to send them. Maybe they'll land some of those strange fish and send us a picture.
William and his bass fishing buddies sent in some pictures of largemouth bass caught on Kentucky lake prior to their current deployment.
Says William,
"We were camping with some friends at Woods and Water Lodge off of Kentucky Lake and went fishing early one morning and caught a slew of large-mouth! Definitely a great morning."
Great hearing from our guys in the military. We wish them a safe deployment and God speed them home so they can wet a line again in pursuit of big mouth bass and smallies.