Bass Fishing Gear


Bass fishing gear includes tools for fishing, bass fishing supplies, fishing gear bags and numerous other helpful, bass fishing accessories that prevent or solve problems.
The Accessories and Tools Essential For Stress Free Bass Fishing
All those bass fishing accessories and bass fishing tools for fishing other than your rods, reels, line,and lures. Gear consists of the gadgets, devices and contraptions that help make your bass fishing days more hassle free. For example, among the many things fishing gear does for bass fishermen is:
help free your hang-ups,
locate bass,
organize your tackle,
keep you from drowning,
keep you dry,
reduce poor hook sets,
help you free hooks from the bass you catch,
put line on your reels and
land your bass.
In short, freshwater fishing gear consists of problem preventer's and problem solvers. What follows in no particular order, are some I have found most useful or helpful.

Bass Fishing Gear for Fishing Safety
Life Jackets and Vests
Since falling from my boat into fifty degree water with no life jacket on in the middle of a Tennessee winter I've become a bit more safety oriented. All bass fishermen should be so. There are just over 700 boat related drownings annually in the U.S. with over 30% of these being in freshwater. Granted, these are not all bass fishermen but it isn't unusual to hear of a fisherman drowning here in Tennessee where bass fishing is large and where there is an abundance of freshwater lakes, rivers and streams to fish. Probably the case in most states I'll venture.
So one piece of bass fishing gear that is most important is a fishing life vest. They are especially important if you're fishing by yourself. While there are many types of fishing vests inflatable life vests are my preference. Why? They are lighter and have less bulk than a regular fishing vest. This enables wearing them when not only when crossing open water but when fishing as well as they don't impede the actions of casting, flipping, pitching or landing fish. I know. They're a bit expensive. But really, just how much is your life worth? Certainly more than the extra $100-$150 or so you will spend on a state of the art inflatable vest.
A Boat First Aid Kit Must Be A Part of Your Bass Fishing Gear
Don't know about you but it's rare I don't "draw blood" when I fish, and I don't mean that of the fish. It's always good to have a first aid kit as a part of your bass fishing gear, whether fishing from a boat or the shore. It's an important bass fishing accessory that falls into the category of, it's better to have it and not need it than need it and not have it.
Weather Alert Radio
If you've ever been on a lake when a boss daddy thunderstorm suddenly hits with all the fury of its rain, wind and lightening you can appreciate the scare it will put in you. They're very serious matters and bass fishermen in boats are like the bullseye on a target.
I'll admit, I tend to push the envelope when it comes to approaching storms as I try to maximize my time on the water. However, one Bass Bum with whom I most often fish, Mitch, has the well earned nickname, "Weather Pussy". A few dark clouds and pick up in wind sends him heading to the dock. The result of his having been caught in a bad storm before. Most of us think he is a bit premature in his weather related exits, thus his nickname.
The best hedge against becoming the victim of a bad storm is to equip yourself with a device of some sort, like the Oregon Scientific hand held WR-102 radio shown, that gives you forewarning of an approaching storm. You then have ample time to get to safety. There are many on the market. This one was given to me as a gift and quickly became an important component of my bass fishing gear. It functions quite well for its intended purpose by tapping into NOAA's seven weather radio channels.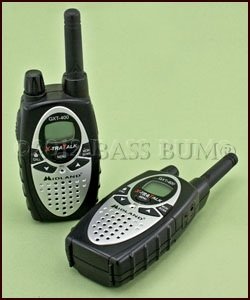 2-Way Radio
2-Way radios are another device that can contribute to your safety. Many also have weather bands in addition to their voice communication features. Additionally, they can be used to contact others with whom you may be fishing or a nearby dock should you encounter trouble on the water.
Most of us have cell phones but they are not consistent in their coverage or service levels in rural areas where lakes are often located. Better to have a back up like these Midland radios as part of your bass fishing gear. There supposed to have a twelve mile range. Couldn't prove it by me but I have contacted fellow Bass Bums® a couple of miles away in very hilly territory. Not perfect but a good backup device and fun to use when you just want to ding your friends on another part of the lake that you just caught a big-un.

Fishing Tackle Boxes and The Art of Organization
A core piece of bass fishing gear is the fishing gear bag or tackle box. For most of us there are only so many hours in the day/week we can fish. An organized fishing lure box enables you to get to the lures, line and terminal tackle you need in a timely manner giving you a bigger portion of those hours to fish than preparing to fish.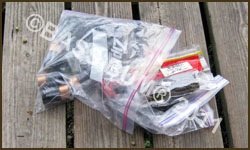 Whether yours is a metal tackle box, a plastic tackle box or my favorite, a soft tackle box, they can make your time on the water more enjoyable. I tend, as many probably do, to overload mine in an attempt to achieve the impossible goal of never "not having" anything I need. One the other side there is Mitch, who, with a statement of simplicity, often uses the plastic bag shown as his tackle bag. Of course his attitude is, "Why should I carry everything when I know you'll have it?" Can't argue that logic.

Hand in glove with a soft tackle box goes the plastic utility box. These afford the angler the means to organize lures by size, running depth, color or seasonal application. They can be dedicated to terminal tackle as well. These inexpensive boxes, though not an essential piece of bass fishing gear, will make your fishing life easier.
Fish Landing Nets
These often save you the agony of losing a hawg right at the boat that may be the result of lipping them or grabbing them under the belly. There are numerous types and styles of nets and to go along with these there are just as many arguments as to whether the use of a net harms the fish or not. The general trend is toward rubber coated poly netting as they do not harm fish as might other materials.
My preference is a flat bottom, rubber fishing net. It's really a rubber coated net, not solid rubber. This style virtually eliminates aggravating hook tangles and won't catch on every darn thing in the boat. I'm also convinced they have minor affect on the critical slime coating of the bass.
Fish Weighing Scales Validate Bragging Rights
Make sure you have some device for accurately weighing your catch. Though the length of a bass can indicate its weight to a fair degree of accuracy the pound to inch ratio can vary greatly depending on the time of year it's caught.
Digital fish scales and sliding metal scales found in various gripper styles are the best choices. I've found that digital scales need to be tested with something like a five pound dumbbell ever so often to insure their accuracy. The "slider style" scales, like the BogaGrip®, are handy and don't require puncturing and tearing the lips or cheeks of the bass.
Tape Measure
It's a good idea to keep a tape measure in your tackle box. Should you land a record bass suitable for mounting measure the length and girth and take a photo. Any good taxidermist can accurately recreate your trophy from these and the bass can be released unharmed to grow even larger.
A simple piece of bass fishing gear you'll wish you had when you're holding the hawg of you life.

Tools for Fishing
Fish Hook Remover
Stainless Steel Fishing Pliers have long been and continue to be the workhorse tool for removing hooks from bass, not your hand. However, today a fish hook remover can be found in several forms and made form titanium and plastic. Each works in its own way though I find pliers to be the most dependable.
Pliers are an essential piece of bass fishing gear. Get a good pair and hang on to them. Pliers are a little like ball point pens in that they soon take on the aura of community property and become the property of the hands in which they are held.
Angler Swiss Army Knife Multi Purpose Tool
There are many good multi purpose tools, such as those from Leatherman® and Gerber® for example, and such a tool is a must for a bass fisherman. The number one such tool in my mind is the good old reliable Swiss Army Knife, "Angler" version. Keep one of these on a lanyard attached to a belt loop and your life on the water will be made much easier. If you want to add a line clipper do so, but the knife's scissors make a great fishing line cutter.
Fish At Night? Get Lights!
LED Headlamps, Cap Lights, Hand-held Spotlight or a Boat spotlight
If you fish at night or just come in late from the lake a device like the headlamp at right chases away darkness and proves handy indeed. You'll be glad you included it in your compliment of bass fishing gear. It will help you tie knots, remove hooks, find something dropped in the boat, see the shore, make entering your slip crash free and any number of things that require light rather than darkness.
---
Return To Bass Fishing And Catching From Bass Fishing Gear