Largemouth Bass From Florida
by Jason Hornsby
(Ft. Pierce Florida)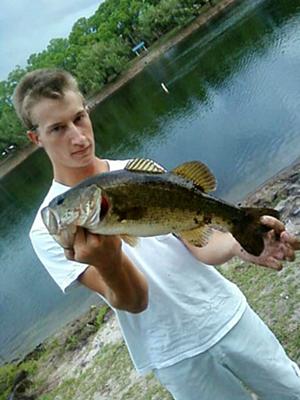 Fresh Water Bass Fishing
Jason has joined the Bass Bum ranks sending in these pictures. He commented that "I live a 3 minute longboard ride away from a lake and I catch fish out of there like no other."

Bass lake fishing in small lakes and ponds. Sometimes it doesn't get any better than that. And there are an abundance of small Florida bass fishing lakes, one of which it seems Jason has tapped into.

We like seeing someone who started young and has kept the desire for bass fishing. The sport needs a steady flow of new, passionate bass fishermen to replenish the sport and preserve it for years to come.

Oh, and by the way, I'm an old guy and am not sure what a "longboard" is. Can anybody help me out with that?