Fishing Tackle Gear

Confessions of a Fishing Tackle Gear Addict
Becoming Hooked on Fishing Tackle Gear, Equipment, and Tackle for Fishing Is An Easy Addiction
---
Hello, My Buddies Call Me Purd. I'm Addicted Not Only to Bass Fishing But Also to Fishing Tackle Gear. I'm a Bass Bum™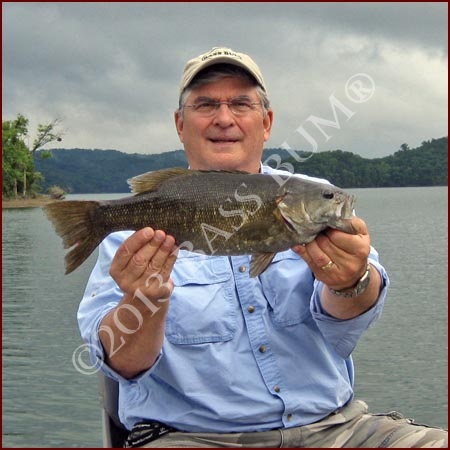 What can I say? I'm a Bass Bum® indeed. Now the word "bum" brings up negative connotations I know. However, if you look up "bum" in Websters you will find the following definition:
bum...an enthusiast of a specific sport or recreational activity, especially one who gives it priority over work, family life, etc...
A little clarification and qualification is called for at this point. Yes, I'll give fishing priority over work any chance I can, over family? No, I do not. To me fishing is all about friends and family. I have my own definition of a Bass Bum® that describes what I'm certain most bass fishermen feel about the sport.
I'm addicted to fishing tackle gear, specifically bass fishing gear. If catching bass is the illness, then bass tackle delivers the cure. Like many of you who love the sport I spend a great amount of time either bass fishing, thinking about bass fishing or preparing to fish for largemouth, smallmouth and spotted bass.

My wife considers me to be more of a bass fishing lunatic. I can't argue, though I prefer being described as simply passionate about bass fishing and fishing tackle gear instead.
It often enters my mind during work days and I go to bed many nights thinking about it. I live in Tennessee where we're fortunate to have many great TVA impoundments, rivers and small lakes. We're able to fish for largemouth, smallmouth and spotted bass virtually year round as we don't experience "freeze out" like our fellow Bass Bums® up north do.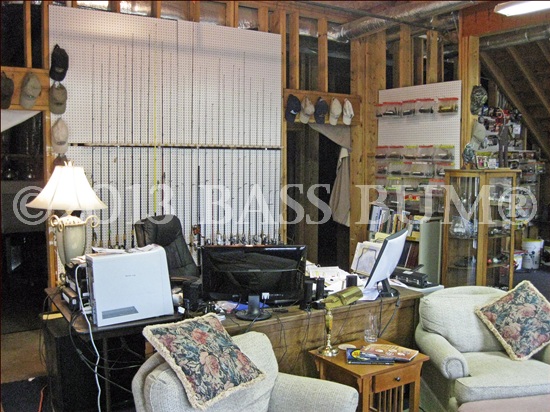 Knowledge Is The Power To Catch More Fish
I'm a student of the sport who has for many years learned continually by fishing, sometimes catching, reading, and researching. I'm continually amazed at the never ending evolution of bass fishing gear and techniques. I interested by them all and try a great many.
As a matter of fact, I'm up to my eyeballs in the "stuff" that is fishing tackle gear. I'm fortunate to have an unfinished basement man cave which I have taken over as my bass fishing domain. I keep my gear and tackle in it as well as my lure making paraphernalia.
Yep, I have my beer fridge and a TV in my bass fishing man cave as well. What more could a man want?

That Wonderful Gear and Tackle for Fishing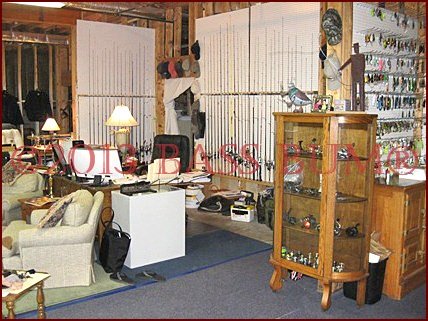 Fishing tackle gear comprises rods, reels, line, lures, soft plastics, spinnerbaits, hooks, sinkers, topwaters, crankbaits, swim baits, jigs, bass boats, depth finders, underwater cameras and beer. They're all good! Well, maybe I should have left out the beer but the fact that bass and beer both start with a "b" can not possibly be a mere coincidence. Right?
For the record, while I fish in excess and, I must confess, drink beer, I do the latter in moderation and obstain from doing so when driving a boat. Drinking when fishing and driving a boat is no smarter than drinking while driving a car. Moderation in all things (bass fishing excluded)...is the key to a happy life.
Lures, Rods and Reels - Good Stuff!
It's not just about the catching part of bass fishing and catching, though that's our ultimate goal. It's all about the fishing tackle and lures, the "fishing stuff". Because fishing tackle gear is the fishing part and we all spend more time fishing than catching.
I'm a junk fisherman. So I like experimenting with bass fishing techniques, rods and reels, terminal fishing tackle and bass fishing lures. The bass fishermen and tackle manufacturers of this sport continually develop and create new things to try. Many of which actually catch fish.
My wife calls the peg board walls of lures "walls of shame". "Why do you need so many" she asks. No way to give an honest answer to that question.
Like many of you out there I have more topwater lures, crank baits and jerkbaits than I need. We're all suckers for them. Big ones, small ones, floaters, divers and suspending models make a day on the lake one of continuous excitement and anticipation when hunting for bass.
I keep my backup hardbaits, jigs and spinnerbaits on these peg boards making them easy to catalog and identify.

Accumulating Fishing Tackle Gear Leads To Organization and Fishing Tackle Storage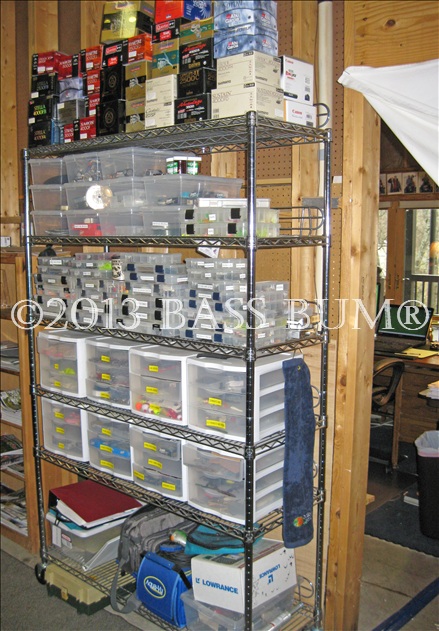 Fishing tackle gear organization on the water insures a more productive and less frustrating day of fishing. However, organization at home also provides for more efficient, less hectic pre-trip preparation. It also goes a long way to insure you take what bass fishing gear you really will need. Plus, it's an enjoyable part of bass fishing.
Lures and Line
The pictures you see here are of racks, both free standing and wall mounted, that I use for storing and organizing fishing tackle and lures. You'll notice the metal chrome racks. I keep many of my crankbait lures, soft plastic swimbait lures, floats, sinkers, terminal tackle and line on these racks. Each plastic utility storage box is appropriately labeled. I know, I know. Just call me anal retentive.
By the way, I got the chrome rack at Costco. It's great. There are six adjustable shelves and the whole thing is on wheels so it can be moved around easily. Crankbaits, jigs and swimbaits are organized in plastic utility boxes by depth, size and application and kept on these.
The walls of plastic fishing baits, jigs, spinnerbaits and crankbaits provide a convenient way to organize backups and make them quickly accessible when gathering those wanted for a trip. The wall is made from pegboard screwed to the wall studs and I use 6" and 8" pegboard hooks to hang lures etc. These are also very inexpensive.
Fishing Rods
The wall mounted fishing rod rack shown above is also made from pegboard, ¾"x 4" boards, angle brackets, wood screws and Velcro tabs. If you have the space this is an inexpensive, functional and easy to do way to store fishing rods.
Fishing Reels
I store many reels on the rods on which I use them, as you can see from the photograph above. This is probably not the best way as it undoubtedly stretches out any reel seats made from plastic. However, I rarely swap reels between rods so that hasn't proven a problem. Each match of rod and reel pretty much stands alone for a given application. Others reels I keep in an old glass front curio cabinet.
---
Return To Bass Fishing Tackle From Fishing Tackle Gear