Bass Fishermen Pictures 1




All Bass Fishermen Are Liars
But Bass Fishermen Pictures Prove It's Not true

Yep, that's what they say about us. We bass anglers are liars? No way. We just have a tendency to, well, exaggerate a little. You know it's true. Bass fishermen that don't exaggerate would be like POLITICIANS THAT DON'T LIE. No such thing.
This bass fishermen pictures gallery is your opportunity to show off your largemouth bass pictures or smallmouth bass photos and prove it's not always exaggeration.
Just visit

My Fishing Pictures

,

upload your photo(s) and

complete some of the information about the catch.

Click Submit and in short order you'll find you're handsome self and your bass fishing photo in this bass fishermen pictures gallery with other

Bass Bums

.
Bass Fishermen Pictures
| | |
| --- | --- |
| Bass Bum® Largemouth | Bass Bum® Smallmouth |
---
Bass Fishermen Pictures


John Lamontagne, from Quebec Canada, is a recent addition to our Bass Bum ranks. 

He caught 25 bass on one trip including these nice 4-5 pound largemouth bass in May on a Texas rigged Havoc Craw brown, red flake. Using 2-5" bounces he slowly moved the lure along the bottom of 3-6 feet deep water next to some docks, logs and boat sheds. Water temperature was around 55°.

He also used a 3 inch Storm Gobi swim bait to catch some of the 25.




Justin Baker, Plumas Lake, California

So that's why they call them, largemouth! Justin hauled this 26" big mouth from the Grant Line Canal in Tracy California.

An early morning catch, between 5:00 and 8:00 A.M. in 66-70°.

No surprise she went for a shad color swimbait.










Michael Gill, Bushnell, Florida

Michael hooked up with this 7.5lb, 21.5" largemouth using live minnows. Caught it off a Lake Panasoffkee fishing pier, I think.

Month was March, water 66-70° in the late afternoon.


Michael Gill, Bushnell, Florida

He also pulled this 9.5lb, 24.5" largemouth from the same spot the next day. Also on a live minnow.

Better keep that honey hole to yourself Michael.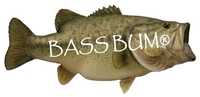 These two smallmouth were the first Steve ever caught out of a lake. He is a river guy. Loved the fight of these bigger smallmouth bass. The one above right was a bit over 17" and the one on the left over 18". He caught them both on a shiners.
The month was May, the weather nice. Water in the low 60's.

Luis Sanchez, Los Angeles, California.

Luis reeled in this 5lb largemouth from a public lake somewhere around Los Angeles. The month was September and the water in the 66-70° range.

His tool of choice was a Wacky rig dressed up with a 4" Robo worm on a #6 Mosquito hook.

Jerry caught this 26.5" largemouth in June on a Junebug color Baby Brush Hog out of 177 acre Herb Parson Lake near Collierville, TN. She was holding close to cover extending into the water from the bank. 

The Kayak was band new, he had never fished from a kayak before and he hooked this hawg on his fifth cast from it. Bet that's not the last time he fishes from it. Sounds like a good omen for future kayak fishing trips.
---
Click here to go to the next page for more bass fishermen pictures.
Return to Bass Fishing and Catching from My Fishing Pictures of Bass