Alabama Rig

Gearing Up and Fishing the Rig Some Consider a Blessing and Others a Curse
Just My Opinion
The Alabama Rig is a nice tool in the hands of responsible "catch and release" bass fishermen and those who participate in bass fishing tournaments. In the hands of indiscriminate "meat hunters" it could devastate bass fisheries.For example, recently the Tennessee Wildlife Resources Agency caught an individual with 27 smallmouth bass in the bottom of his boat. This guy was not using an Alabama Rig. How bad could it have been if he had?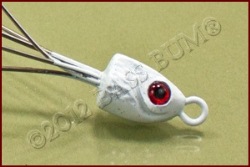 So What is this Rig Anyway?
This rig is the descendent of the long time Umbrella Rig used in saltwater fishing. Basically it's a contraption consisting of:
Pieces and Parts
Head - lead or plastic
Wire - heavy gauge with looped ends
Swivels - five snap-swivels rated for
Jig Heads - lead heads, round or shad shaped
Soft plastic fishing baits - soft or hollow body swimbaits, plastic grubs or soft jerkbaits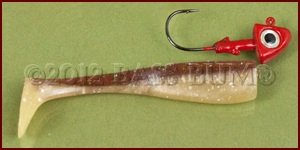 This Rig and the numerous copies (I count at least 16 as of this writing) rapidly entering the market are generally built with five heavy duty wires coming from a molded plastic or lead head. Generally there are four wires of the same length (5" to 5 1/4") and one that is longer by a quarter inch or so. The wire ends are looped and fitted with snap swivels. Attached to the swivels are five jig heads rigged with some type of swimbait body.
What you wind up with is a rig that closely resembles the small tree branch we've all gotten hung up on and broken off when trying to free our lure. Remember reeling in those little pieces of nature? Well, it's kind of like that, only in a good sort of way.
We Bass Bums call those "Bart Bites" due to an occasion when brother Bart became almost hysterical when he hooked up a rod bender that he knew had to be a monstrous smallmouth. He began screaming for his fishing partner to "get the net, get the net".
Well, he finally got the monster up alright and it was a very large branch that had put up one hell of a fight. From that point forward these sub-surface floating branches have been called "Bart Bites". A bite that ain't a bite

Gearing Up
You can't go wimpy here. This monstrosity can be as long as 10" and weigh upwards of 2.5 to 5.0 ounces or more depending on your choice of jig heads and lures. Might be a good idea to "pump up" before you first go out and hurl this baby all day long. To say it will wear you out is an understatement. You will quickly appreciate the concept of water resistance.
For what it's worth my choice of rod, reel and line is a 7' 6" G. Loomis 904C medium, medium fast swimbait rod and a Shimano Curado 201B5 baitcast reel filled with 60lb Spiderwire Invisi-Braid. You'll likely assemble your own configuration and when you do make sure your rod has backbone and a soft tip.
As for the jigs and baits, there are innumerable combinations. My choices are 1/4 ounce home poured or store bought Hammer Head jig heads and 3" Big Hammer swimbaits. Round jig heads work with baits like Berkley hollow belly swimbaits, Yum Money Minnows, Zman SwimmerZ paddle tail baits, grubs or Berkley Power Jerkshads to name but a few. The best lengths in many opitions are 3" and 4" but some anglers do use 5" and 5 1/2" long soft plastic lures.
The use of these umbrella type Alabama rigs in bass fishing is in its infancy so "experimentation" is the word of the day for how it will be rigged and fished going forward.

When you first purchase your version of the rig it will appear as is shown in the photo above. In order to use it you will first need to spread four of the five wires outward at 45° angles to a 5" to 6" diameter. About the size of a coffee can.
Leave the longer central wire straight. The closer you position the wires without causing fouling the greater the number of strikes. Like what is shown in the photo below.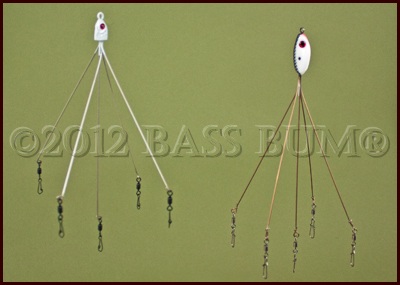 How Do You Cast and Retrieve This Sucker?
Since this is a rig designed for casting, not trolling, get comfortable with a semi side-armed round house cast. No doubt every angler who winds up using any version of the Alabama Rig will use a cast motion which best suits them, just like most things in bass fishing.
Once you have cast the rig successfully where you want it either let it sink to the depth where the bass are holding and begin a slow steady retrieve. Or, if you want it to run high in the water start your retrieve as soon a sit slaps water and keep your rod tip high. You can also kill it during a fast retrieve letting it drop a bit before resuming. Strikes often occur on the drop or close to the boat when you begin to raise it to the surface.
These rigs seem to shine when fished ledges. Vertical structure is a well known bass attractor and fishing the Alabama rig along it is a high percentage play. The ledge does not have to be deep. Any abrupt change in the bottom should be a target. Use your electronics to locate the bass then heave the rig.

Damage to Bass? Greater Than Other Rigs?
So far there is no evidence that catching bass on an Alabama rig is any more traumatic to bass than any other method with which we bass anglers catch them. Mortality rates appear to be no different. Especially if caught and released within a a span of just a few minutes. Time enough only to weigh, measure and photograph then release for example.

Cost of an Alabama Rig
If you're planning on fishing this style rig in cover (some do) as well as in open water for suspended bass take note. The rig will cost you from $15 to $27 depending on your source. That's just for the rig. Add the cost of five swimbaits and jig heads and you can reach $30 to $50 in a heartbeat. Don't want to be losing too many of these to hang ups.
Also, the heavier jig head you use the more difficult it will be to keep it off the bottom where you might not want it on the bottom. Where there are brush piles, sunken trees and other gnarly stuff.
NOTICE!

Check Your State's Freshwater Fishing Regulations. She Ain't Legal Everywhere.
Tennessee fishing regulations, where I live, prohibit the use of the Alabama Rig. the regulations state:
Umbrella Rig Restriction: Umbrella rigs are defined as an array of more than 3 artificial lures or baits (with or without hooks) used by a single rod and reel combination. If the hook size is 6 or larger, then only one lure or bait may have a hook and that hook must be a single hook.
Best check your own state regulations.

Return to Fishing Rigs from Alabama Rig